General
Full Name:
Kai Leo Nahara
Nickname(s):
Kai
Gender:
Male
Age:
16
Birth-Date:
September 17th
Sexuality:
Heterosexual
Relationship Status:
Single
Love Interest/Spouse:
N/A
Nationality:
Canadian
Village or Town of birth:
Toronto
Smoker?:
No
Drinker?:
No
Drug User?:
No
---------------------------------------------------
Appearance
Height:
5'3''
Weight:
124 lbs
Figure/Build:
Kai is skinny and somewhat short for his age. His back is very slightly hunched, almost unnoticeable.
Hairstyle and Color:
Kai's hair is about halfway down his neck and slightly above his eyes. It reaches very slightly below his ears. His hair is light brown in color.
Eye Color:
Blue
Skin Color:
A pale white
Tattoos (If any):
None
Scars (If any):
None
Piercings (If any):
None
Preferred Style of Clothing:
Kai prefers wearing clothes with dragon-like designs, or with incomprehensible text, and prefers red shirts with black jeans. Occasionally though, he is also seen with black or white shirts, and sometimes blue jeans. If the weather allows, he usually wears black or red hoodies. He always has a necklace on.
((Sorry for the crappy picture, I took it quickly))
---------------------------------------------------
Personality and Habits
Personality:
Kai is always very tired, which can be observed, by his yawning that he does a lot. He isn't very athletic, or very good at socializing, however, he is intelligent. He's a bit of a nerd in most cases. He is very musical, and enjoys writing. He has a slight anger management problem, and can snap easily, but it doesn't last very long when he does.
Likes:
Anime/Manga, books, sleep, relaxing, Video Games, music, writing
Dislikes:
Annoying people, having to stay away for extended periods of time, running, soccer
Fears/Phobias:
Kai is kinemortophobic (Afraid of zombies), slightly claustrophobic and is afraid of looking into large mirrors at night, afraid to see something that's not himself
Favourites Color:
His top three colors in order are, including shades, Red-Black-Blue. Not including shades, they're Red-Blue-Green
Favourite Food(s):
Hot dogs, Tacos, Chicken, Soup, Ramen, Chocolate
Favourite Drink(s):
Fruit Juice, apple juice, sprite, ginger ale
Least Favourite Color:
Yellow
Least Favourite Food(s):
Peppers, onions
Least Favourite Drink(s):
Tomato Juice
Hobbies:
Writing, singing, reading, watching TV, playing video games
Talents/skills:
Writing, Singing, certain video games
Peaceful or Aggressive?:
Kai is normally peaceful, but he is occasionally aggressive for short periods of time.
---------------------------------------------------
Relationships
Parents:
Taylor and Christian Nahara, still alive, divorced, not living with Kai
Siblings:
None
Children:
None
Other Important Relatives:
Kai really looks up to his grandfather on his mom's side of the family, but he doesn't get to see him often.
Notable Friends:
N/A currently
Enemies:
N/A currently
Partner Digimon:
Kotemon
Digimon Description:
Kotemon is just a normal kotemon in apperance.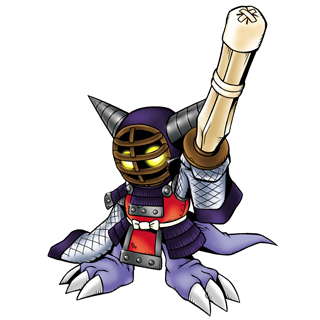 Digimon Personality:
Kotemon, like most of his kind, is silent, and never removes his helmet. Apart from this, he seems very bonded with Kai, never leaving his side.
How/When You Met Your Partner:
Kai originally met Kotemon when he accidentally stumbled into the digital world. At this time, he was just a Kapurimon. When Kai was walking aimlessly, frightened because he had no idea where he was, Kapurimon found him and helped him find a portal which took him back home.
Life Story
Situation of the character's birth (where, when etc):
Kai had a normal birth in Toronto.
How/When Your Character Arrived In the Digital World:
Kai first arrived at the digital world when he was four, when he was playing outside, he saw a portal, curious of what it was, he approached it, and soon found himself in the digital world, and Kapurimon helped him find a portal out. Kai again found a portal when he was 16, he was walking around his neighbourhood. He walked around aimlessly until he saw a portal, after a moment, he remembered what it was, and curiously entered it. There, he again found Kapurimon, who, at this point was a Kotemon, and they stayed together.
Describe their childhood (newborn - age 10):
Kai was born and raised in Toronto. When he was outside playing when he was four years old, he found a portal to the digital world, curious to what it was, he approached it and got teleported to the digital world. Skipping past what I've already said in previous sections, the next years were normal for him. He started to forget about his time in the digital world, and by the time he was nine, he barely remembered it, except for in the occasional dream about 'that strange place where he got lost on that one day'
Teenage years (11 - 16): Kai's life continued normally. When he was 13, his parents started to argue frequently, and when he was 14, his parents divorced, and while he was upset that they weren't together anymore, he figured that it could be something good, because there wouldn't be as much yelling in his house anymore. After two more years, Kai was walking around his neighbourhood, bored, with nothing better to do since it was the weekend. When he was walking, he saw a portal again. After a moment of trying to remember what it was, he approached it and found himself in the digital world again. He soon found Kotemon, and it didn't take him long to recognise him as the Kapurimon that helped him 12 years earlier. Now, they are barely apart from each other.